K E N N E L A U R R A S I N G
Marika & Vili Lehtonen
Mansikka-aho 4
49570 KANNUSJÄRVI
FINLAND
GSM +358 (0)50 573 3046
marika.lehtonen (at) aurrasing.eu
kennel.aurrasing (at) gmail.com
F-litter planned to the summer 2020!
Kyllikki has started her heat, mating will take place during the week 16.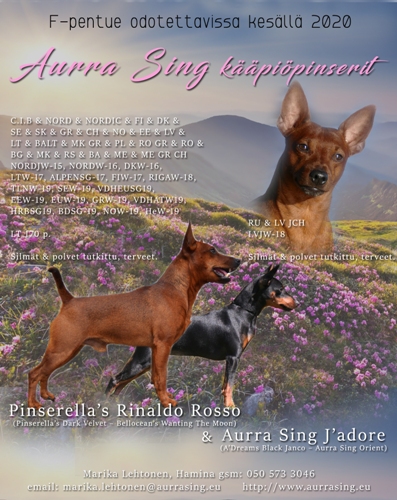 ENQUIRES:
K E N N E L A U R R A S I N G
Marika & Vili Lehtonen
Mansikka-aho 4
49570 KANNUSJÄRVI
FINLAND
GSM +358 (0)50 573 3046
marika.lehtonen (at) aurrasing.eu
kennel.aurrasing (at) gmail.com
OUR PUPPIES...
...will be transfered from age of 7 weeks with registration papers (export pedigree & EU passport if neccessary), health inspectioned made by vet, microchipped and devormed with plentiful puppy packs. We look for homes where the dog is well considered family member. I will give my full support to the owners in future also and I hope that every owner is willing to keep in touch every now and then. I also hope that every one of my bred dogs will be eye and knee examined at least once in their life time.
Breeding is a hobby to us and puppies will grow up middle of our day-to-day routines and they will get used to normal voices in home inviroment, to children and to other dogs. First weeks puppies and mother will have their own peace without visitors, but after puppies are in age of 3-4 weeks, are visitors welcome.
Our earlier litters you can find from LITTERS -site.